Now that Admiral Zhao is out of the way, we're introduced to a new villain: Zuko's younger sister, Azula.
Azula first shows up in Iroh's recounting of Zuko's duel with his father in Book One. Azula's the girl sitting behind Iroh during the flashback. While Iroh averts his gaze from the fire-blast that scars Zuko, Azula watches with avid glee. She is not nice. The next time we hear of her, it's from Zuko–she's the prodigy, the gifted firebender, the one to whom everything came easy. Yes, the creators make it easy to dislike her already.
Azula's scary. At this point, she's powerful enough that she could take down any of Team Avatar in a one-on-one fight, maybe including Aang himself. She's also smart and proactive–she certainly kept Aang and co. on the run in "The Chase". She understands people–and manipulates them to further her own ends. She plays on Zuko's longing for acceptance and approval from his father like a master violinist.
In the beginning episodes of Book Two, Zuko's hit rock bottom He's conflicted and struggling; he's gone from banished prince to fugitive criminal, and he and Iroh have to hide as simple peasants in the Earth Kingdom. Meanwhile, Azula is strong, confident and on top of her game. She has many admirable traits, but, unfortunately, they're combined with ruthless ambition, a conviction of her own superiority, and a lack of compassion and empathy.
Why did she end up like this? I'm going to do some armchair psychology here, based off of the flashbacks in the episode "Zuko Alone". Turns out the young Azula was a manipulative, eavesdropping, taunting brat.  My guess is that Azula's firebending gift threw her into her father's orbit really early. Ozai's certainly proud of Azula–and how her skills reflect on him–but he's much more concerned with his own ambitions, and isn't around actively parenting either of his children. Zuko, meanwhile, is in his mother's sphere of influence; he probably learned to have a heart from Ursa. Azula's left to her own devices pretty much and seems to have very little adult oversight. She's picked up Ozai's values–she prizes strength, firebending ability, ambition.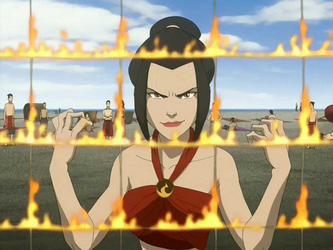 She's so self-assured and unfazed, it was rather satisfying to see the look on her face when Iroh tosses her into the water early on in Book Two. Which might be why she went for him with her lightning strike in the Wild West town episode.
In Book 2, Team Avatar is joined by a new member: Aang's earthbending teacher, Toph.
Toph ROCKS. (I know, I know, *terrible* pun, but Sokka's humor must be rubbing off on me.)
After King Bumi (I always think it should be spelled Boomi–because he's an earthbender, right? And rocks earthbended to hurl through the air go BOOM when they land, right? get it? BOOM, BOOMI? Oh never mind), gets put into an iron coffin by the Fire Nation, he tells Aang to find an earthbending teacher who waits and listens. In "The Blind Bandit", Aang finds just who he's looking for.
Toph was born blind, and is treated as helpless and fragile by her parents. Unbeknownst to them, she's a great earthbender who loves to fight, and is the reigning champion of EarthRumble (the earthbending equivalent of a WWF tournament). However, her parents cannot see her as anything other than delicate, so she runs away from home to join Aang–something which leads to compications later on.
Now, Katara's got the whole maternal, peacemaking, cooperative thing down pat. Toph's more of an independent, don't-sweat-the-small-stuff type. She's not used to being a member of a team–she never even had friends before–and that leads to some friction early on. Toph and Katara are very different, especially when it comes to their handling of Aang's training (love that the Avatar has two girls teaching him :)). Toph's got a drill-sergeant tough-love teaching style.
Toph's a great earthbender and has such a strong personality that her blindness isn't much more of a problem than say, Sokka's lack of bending. In fact, it gives her an edge in earthbending since she's had to learn to "see" with her feet. She's steady and reliable, and after that one time she left in a huff, we know we can count on her in a fight. She also has her vulnerabilities, which make her more relatable.
We're almost to the walls of Ba Sing Se in our watch-through. Sokka's found out about the Day of Black Sun and Appa's been kidnapped on Toph's watch (okay, she was a little busy trying to keep a gigantic library from sinking into the desert, taking her friends with it). Oh, the rest of this season's going to be on-the-edge-of-your-seat fun! My son, though, is very distressed that Appa's gone missing.