I took my youngers (5yo and 3yo) through a whirlwind tour of the icons of my childhood, courtesy of YouTube. Now, my children are pretty TV-deprived compared to your average American–we get absolutely no reception in Small Town, Vermont; we're too cheap to pay for cable; and I'm getting crankier about commercials and silly shows in my old age. So, when I bombarded them with a stream of 80s cartoon imagery–from Inspector Gadget to Duck Tales to Silver Hawks–they pretty much sat there in stunned silence. Even my pink-loving Miss M. was like O.o???!! at Jem and the Holograms–and I don't blame her (oh the hair, the hair! The-the makeup…. and the clothes *shudder*).
However, they did love the opening theme of Thundercats. And I can see why. The simple striking imagery, the uncluttered background, the clear character distinctions (no doubts as to who's the Leader Dude and what type of cat he's supposed to be!) and that darn catchy tune (a real mindworm, that), Thundercats has aged pretty well. The classic still looks better than the updated version.
And besides, it has Cheetara in it. Wouldn't you want to be able to run so fast that you're a blur, turn flips high in the air, whirl your staff around, and strike a cool pose? Without having a hair of your spotted style out of place?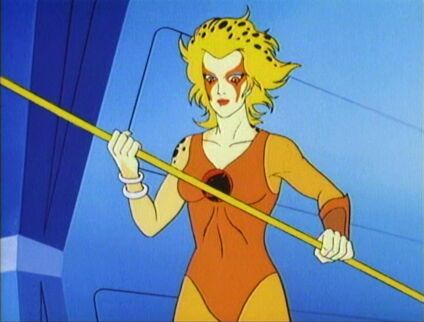 Other 80s children, which cartoons do you look back at fondly?