We finished watching the rest of Avatar a couple of weeks before we moved. Unsurprisingly, it's taken me this long to write my wrap-up post.
So, after the awessome (I mean sad, depressing, horrible for the main characters) finale of Season 2, Aang awakens to find that–he has hair! Oh, and that he's also on a Fire Navy ship.
Not to worry–the Fire Navy ship is crewed by his friends and allies. The invasion plan is still on, though the Day of Black Sun (the solar eclipse) during which the firebenders will lose their powers is still some time away. Aang and company separate from the water tribe warriors (the plot contortions to keep the main characters away from adult supervision are rather amusing) and go hide out–wait for it!–in the Fire Nation.
On one hand, I like this twist, because it gives the main characters–and us–a chance to see normal Fire Nation folks (not just power-hungry firebenders and their faceless hordes). On the other hand, the Fire Nation seems to be divided rather sharply into victims and oppressors: dancing-deprived Fire Nation schoolchildren oppressed by stern teachers who won't even let them have a party, poor villagers poisoned by the toxic waste from a factory run by brutish army-types. But hey, at least they're not all evil, and Aang gets a chance to see that the Fire Nation needs the Avatar too. Sokka even finds an expert swordsman to train him in one of my favorite pre-invasion episodes of the season.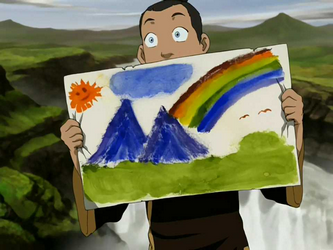 In the meantime, Zuko's finding out that having a girlfriend, the approval of his father, and the adoration of the populace aren't quite filling up the emptiness within. He's behaving like a good prince, but it's not enough. Iroh's in prison for treason and won't even give Zuko the satisfaction of a confrontation. Then there's the niggling suspicion that Aang's not dead after all, so he sends an assassin after him. Zuko may have everything he wanted–but it's not what he needed.
Zuko, Zuko. What a painful road you've set yourself to walk.
But, anyhow, after some fun incidents, lots of witty banter and repartee, and character development, we finally get to the invasion–which, of course fails.
I love that the good guys showed initiative and took the fight to the bad guys–so many times Good is always on the defensive–but we knew it wouldn't work. First, we know that Azula learned of the plan when she was disguised as a Kyoshi warrior, and second, it's only the middle of the season, and third, Zuko hasn't joined the party of Good yet. But he does! Right around the time the invasion is failing miserably, Zuko confronts his father and tells him whatfor, redirects some lightning dear old Dad throws at him, and leaves. The adult members of the invasion force are captured, but the teens and kids get a ride out of the Fire Nation on Appa.
Zuko sets off to find the Avatar and, as expected, Aang and co. don't take very easily to his wanting to join them. Zuko has to prove himself first, especially to the hurt and angry Katara who trusted him first in Ba Sing Se, only to be betrayed. This is followed by several fun episodes, in which various members of Aang's company take field trips… er, have adventures with Zuko: finding the original source of firebending, freeing Sokka's Dad & Suki from a Fire Nation prison, and confronting the man who killed Katara's mother. All of these are really well worth watching, especially since we start to see Azula unravel as first Mai, then Ty Lee, betray her. (Mai helps Zuko escape from the Fire Nation prison, and Ty Lee won't let Azula take her temper out on Mai. This is the episode where I really started liking Mai).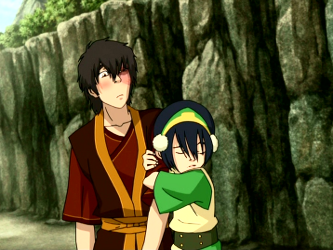 All too soon, the time of Sozin's Comet draws near and the Fire Nation launches its attack to scorch the entire world (or as much of it as belongs to the Earth Kingdom). Aang doesn't feel ready to confront the Fire Lord,  and his pacifist tendencies come to the fore–he knows he cannot bring himself to kill the Fire Lord. And so he goes looking for an alternative answer, disappearing on his friends, who join up with Iroh and the members of the White Lotus to try to stop the Fire Nation rampage.
What follows is two episodes of coolness, notwithstanding the discussion that David and Sir I. had about comets being mostly ice and rock and how unlikely they were to help firebenders (technically speaking) or a bit of deus ex machina in the guise of a [spoiler]. Those are nitpicks that we certainly didn't think of till after we were done with the edge-of-your-seat action. Two emotionally intense points for me: Zuko's reconciliation with Iroh (I love love the portrayal of their relationship throughout the series) and the last agni kai between Azula and Zuko–the utter sadness and brokenness of it, emphasized by a somber, barely-there soundtrack.
My three loved the show, and their parents did too. I wish they'd made shows like these when I was a kid. We're eager to see the next series, featuring the next Avatar, a girl from the Water Tribe. Miss M. rather anxiously asked if we would still be able to watch it in Virginia when it comes out. I assured her we would.
All my Avatar: The Last Airbender posts in one handy place